I was out on the playground with my camera walking around when I seen a little guy climbing the slide. He was breaking the rules but I took his picture. Then I seen two girls on one swing. They were breaking the rules but I took their picture. Another group of children were burying a little girl in the sand. They were breaking the rules but I took their picture. The bikes were popular on this particular day. It was way over crowded. They were breaking the rules but I took their picture. Some little guys were throwing rocks. They were breaking the rules but I took their picture. The standing on the bikes and the stick picture were totally staged, as if you can't tell.. but still they were breaking the rules but I took their picture. Why did I do this? Because I thought it would make a really fun
Foto
Finish Friday Post! Why else? No, really - I made a class book. Teaching the words unacceptable/acceptable. We took pictures of them making the right choice and the wrong one. It has become quite a popular book in their little book corner. They love seeing themselves. They are also mastering the word quite well. Wednesday at lunch a little girl looked at me and said, "Teacher, this lunch is totally unacceptable. My stomach hates it". Way to funny!
And I just wanted to throw this picture in
because
it is so
stinkin
' cute. On September 26
th
, we celebrated Johnny Appleseed Day. We graphed apples. Tasted Apple Butter and Apple Muffins. We drank apple cider and then made apple prints with red, yellow, and green paint. We had a fun day... and I thought they looked adorable in their Johnny Appleseed Hats..
For more
Foto
Finish Friday Post. Hop on over to
Candid Carries
.
and for the first time every.. I am linking up to Photostory Friday.. Mostly so that I can keep checking back throughout the day and see all the entries.. I love photo stories...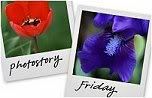 Hosted by Cecily and MamaGeek